Posted by Tape Jungle on Dec 10, 2023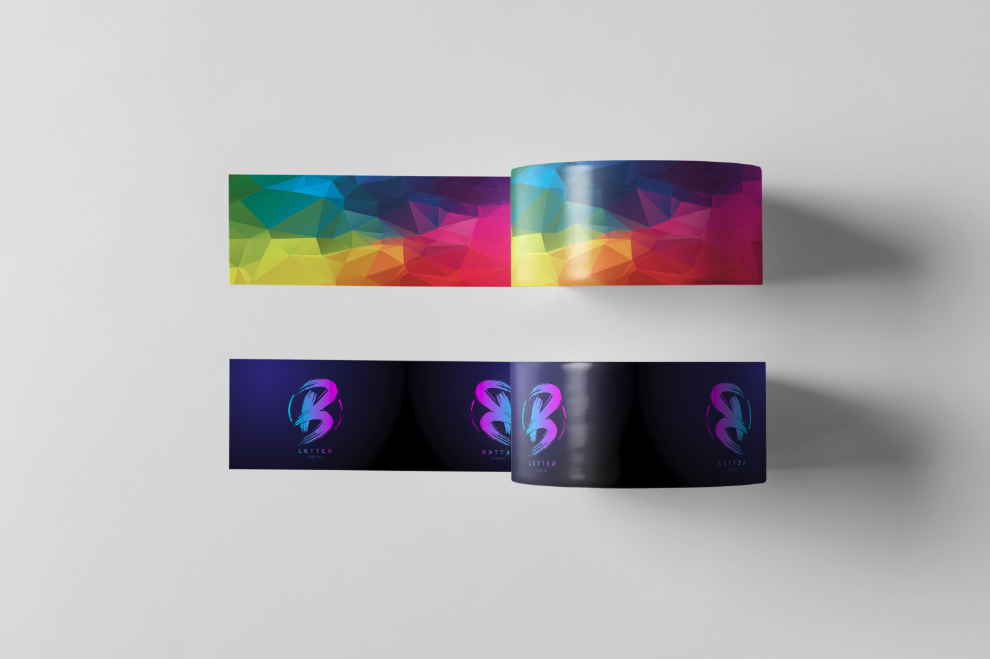 Tape Jungle has long been a leader in customized tape production, and it is easy to understand why. It is the ideal one-stop shop for all your tape-related needs with over 20 years of experience, transparent pricing, and over 300 tape types. Tape Jungle is introducing an innovation: digital full-color custom printed tape.
Custom printed tapehas always been a Tape Jungle specialty. Many businesses print their name or logo on their tape to improve brand recognition. With Tape Jungle's industry-leading technology and design support, your new custom-printed tape can keep your boxes securely sealed and advertise your brand simultaneously.
Customized digital print tape opens a new realm of possibilities. There are no plates or design restrictions, and shipping takes place within a week. It is a dream come true for creatives and consumers alike. Discover why Tape Jungle is the premier supplier of customizable tape, how to use the digital printing process, and the benefits of ordering your own digital printed tape.
About Tape Jungle
Tape Jungle sells duct tape, industrial colored tapes, paper tape, and almost every other kind of tape. The majority of products are available in various colors, lengths, and thicknesses. Most importantly, Tape Jungle's buyers can design their own custom printed tape and order as many rolls as they want.
Previously, Tape Jungle used only conventional plate printing for tape customization. Plate printed tapes will still be offered, but clients can now order digitally printed tape. This new service will provide faster, cheaper printing without sacrificing Tape Jungle's high-quality standards.
Plate Printing (Flexographic) vs. Digital Printing
Traditional custom printed tape requires a printing plate for each color in the design. It creates crisp, good-quality, cost-effective prints, but they take a long time to produce. Once the order is confirmed, physical plates are manufactured, mounted to the press, and each print is expertly calibrated to each specific design before the first roll is even produced.
Digital printing methods, by contrast, print a digital image directly onto a material without plates or lengthy setup. There are no printing plates involved, so there's no time lost to plate replacement. The reduced labor translates into very fast lead times and very low minimums.
Another benefit of digital printing is that digital images are easy to alter. If you realize you need to change something about your design halfway through your order, just contact Tape Jungle to let the design team know. Compared to conventional printing, digital printing is rapid, low-cost, and endlessly customizable.
What Types of Tape Are Available for Digital Printing?
Currently, digital printing is only available for paper tape. Paper tapeis a water-activated packing tape, and it comes in white or Kraft brown. Depending on your needs, you can select standard paper tape (recommended for general purposes), gummed paper tape (recommended for inner carton sealing), or reinforced paper tape (recommended for packages up to 20 pounds).
Paper tape provides a strong, neat seal, so it is often used in packaging. The adhesive is made from natural rubber and resin, and its tear strength and tensile strength are excellent. Since the tape is water-activated, moisture won't cause it to lose its adhesive properties. When used as a custom packing tape, it offers the perfect blend of sturdiness and style.
Using paper tape requires a dispenser, but you can easily purchase a paper tape dispenser onlineif you don't already own one. Tape Jungle's digital printing options may eventually expand to include other types of tape, but in the meantime, paper tape can easily meet your needs.
Full Color Pallet
Tape Jungle offers a full-color pallet for digital custom printed tape. Both the background tape color and the printed design color are 100% customizable. Just pick your tape color and upload any design, even print gradients, images, and more.
Although the list of color selections is endless, you should keep a few recommendations in mind for maximum quality assurance:
Choose the right tape color background. Colorful designs stand out better on neutral backgrounds. Printing your company's name onto a white or light brown tape makes it easily readable, which helps with brand recognition. Neutral base tape colors are the most popular choice on Tape Jungle, and luckily for you, they are also the cheapest.
Use solid colors for your design. Solid colors are the easiest to print, which saves you money. Simple, solid-colored logos are also very memorable for customers, making them ideal for businesses trying to build brand recognition. Solid colors print the clearest, especially if you use only one or two colors. If you want a multicolored design with gradients and shading, Tape Jungle can provide that, too.
Review your color choices in the final proof. You can always view a proof of your design before printing. If you are not fully satisfied, go ahead and edit your color choices. Digital printing makes last-minute changes easy to accommodate.
No Plate Fees
As previously mentioned, conventional printing uses printing plates to stamp designs. Printing companies charge fees specifically to cover the cost of regular plate replacement. Sometimes, these plate fees are charged as hidden fees, forcing the customer to pay an unexpected expense.
Since digital printing does not require any plates, there are no plate fees, hidden or otherwise. The price you see is the price you pay.
Flawless Design
You may be wondering how to submit your designs for printing. The answer is, it depends. If you want to print plain text, all you have to do is enter the text during the customization process. This is ideal for labels, slogans, and non-stylized brand names.
If you have a more complicated design, such as a stylized logo or a piece of artwork, you have two options. You can upload your artwork as a digital file or email it to Tape Jungle's design team. Either way, make sure to specify the template print area dimensions. Whether you upload or email a file, you can add further instructions to let the printers know precisely what you want.
All designs are kept on file. If you return to Tape Jungle for a reprint (and we hope you will!), select the reprint box on the design tab. If you have submitted multiple past designs, specify the design you want to re-use. Tape Jungle will locate your design file and reprint it for you.
Fast Turnaround
Tape Jungle promises a fast turnaround for your digital print tape. Digital printing is much faster than conventional printing, thanks to the reduced plate and proofing demands. Full-Color orders ship within five business days of proof out. You could place your order and have your custom printed tape arrive the following week.
Shipping
Tape Jungle ships nationwide throughout the U.S. and Canada. You can also place an order for delivery to military bases and government agencies worldwide.
Tape Jungle can ship orders to international civilian/non-government destinations in some cases. To get a quote for international shipping, please contact us.
Custom Order Amounts
Customizable tape is sold in rolls, and you can order any amount from 36 rolls to over 2,000. The wide range is designed to accommodate the many needs of Tape Jungle's clientele. Small businesses may only need a few dozen rolls of tape, while big corporations may go through a hundred rolls daily.
As a general rule, Tape Jungle suggests ordering enough tape to keep you supplied for six to twelve months. If you are unsure exactly how much custom packing tape to order, go with slightly more than you think you will need. It is always helpful to have extra tape for surprise orders and emergency box repairs.
Smart business owners know it is always cheaper long-term to buy in bulk, which is certainly true of tape. The more customized tape rolls printed, the lower the price per roll. For example, if 72 rolls cost $8.33 per roll, 900 rolls with the same design will cost only $5.21 per roll. As long as your paper tape is properly stored, it will not lose its stickiness, so you can place a big order and keep the extra rolls in storage until you need them.
What Should I Print on My Tape?
The short answer to this question is: whatever you want. Most businesses use their custom designs as advertising. However, if advertising is not your style, there are many other uses for custom packing tape. Check out the list below to get some ideas.
Business name.Putting your business's name on your packaging tape is a straightforward advertising method. You do not need to stamp boxes with your company name; you just need to remember to tape the boxes closed. Every time your customers receive a package, they will be reminded of you and your products.
Business logo.Logos are often more eye-catching than plain text. Just think of how synonymous a red circle has become with Target or a yellow M with Mcdonald's. If you already have strong brand-name recognition, consider printing tape with just your logo.
Contact info.Printing your contact info on your custom packaging tape makes it easy for your customers to contact you. If they want to place a new order or ask questions about an order that just arrived, they just need to check their last box.
Shipping labels.Paper tape is popularly used for labels. Digitally print "Fragile" labels to warn your shippers to handle your boxes carefully or "Heavy" labels for hefty packages. Adding a few labels to your boxes helps the whole delivery process run smoothly.
How To Order Online
Once you have decided what you want to print, you can place your custom printed tape order online. You will be prompted to select your tape size, grade, design, and quantity. The online ordering system has been designed to be intuitive and easy to navigate, but check out the FAQ pageif you have any questions.
After selecting your criteria, you will have the opportunity to review your order. Make your final changes, submit your order, and let Tape Jungle handle the rest.
Learn More and Place Your Order
Custom packing tape is an underutilized and cost-efficient business tool. Tape Jungle's high-quality products are ideal for labeling, securely sealing packages, and repairing cardboard boxes. When packaging tape is customized, it is elevated from a practical piece of equipment into a unique advertising method.
Digital print tape has all the benefits of conventionally printed tape, plus it is cheaper and faster to produce. For tape manufacturers, digital printing streamlines the production of customizable tape. For tape purchasers, digital printing is an ideal way to design mass amounts of customized tape without running up a huge bill. It is a win-win situation for everyone.
Learn more about custom printed tape by exploring Tape Jungle's website. When you're ready, place your order online. Your customized digital print tape will arrive within a week. Tape Jungle hopes you will enjoy your purchases and looks forward to working with you in the future.