Posted by Tape Jungle on 09/13/2023
While many people are ready to put the COVID-19 pandemic behind them, it doesn't seem like the world is out of the woods yet. With the rise of new variants, it's still important that people seek ways to protect themselves and their loved ones. Social distancing might no longer be mandated by the government in many areas, but it's still a smart and relatively easy way to protect your safety and the safety of those around you.
Social distancing isn't the same as quarantine and doesn't mean you can't leave your home. It's a simple precaution where you stay six feet away from other people and avoid close contact with those who are sick.
One of the best ways to promote social distancing in your business is by using social distancing tape. This is an affordable but reliable way to encourage social distancing and create a healthier environment for both your customers and your employees without disrupting the day-to-day operations of your business.
Here's what you need to know about social distancing tape and its very practical applications.
What Is Social Distancing Tape?
Social distancing tape is a type of floor marking tape that indicates where people can safely stand to maintain the recommended six-foot distance from one another. This tape is available in a wide array of colors and designs. It can prompt your customers to social distance on their own so an employee doesn't have to keep telling them where to stand. It's much more organized.
Social distancing tape also indicates each six-foot increment, which means that your customers won't have to "eyeball it." Social distancing tape can also identify the directions people should walk to keep things organized.
The Benefits of Social Distancing
Social distancing allows people to go about their daily routines while still protecting themselves from the COVID-19 virus. Unlike a quarantine or a lockdown, you're free to shop, dine out, and enjoy a relatively normal life. The only difference is that you maintain a healthy distance from others while you do so.
While social distancing became a public health policy as a result of the COVID-19 pandemic, it can help prevent you from catching other illnesses, such as the common cold or the seasonal flu.
Don't just think of social distancing as just something you have to do to follow the rules. Research has found that those who practice social distancing, whether voluntarily or due to local ordinances, tend to have lower rates of contracting the COVID-19 virus. If you want to stay healthy this season, engaging in social distancing might be the way to do it. Floor marking tape can be an easy way to ensure you're maintaining a sensible distance from others.
Where Can You Use Social Distancing Tape?
The applications for social distancing tape are virtually endless. From shopping malls to restaurants to schools, you can use this floor marking tape just about anywhere you'd like people to maintain a safe distance from one another. Here are some ideas on how you can make social distancing tape work for your business.
In Front of Cash Registers or Other Places Where People May Queue Up
If you have a business with a physical location, people will likely queue up at some point — whether it's to pay for their purchase or to use the restroom. In these cases, you can use social distancing tape to create a barrier between people. It will help remind people to maintain a safe distance from one another and will also help reduce the spread of germs.
Smart tips
You can easily create a queue-up lane with vinyl floor tape.
Aisle marking tape can be removed, which means you can use this as a temporary solution if you only want to mark these lanes for flu season.
Don't forget the importance of workplace communication — use the same safety measures in the break and storage rooms as you would in the customer-facing areas.
On the Floor in Front of Checkout Aisles in Stores
Another place where social distancing tape can be helpful is in front of the checkout aisles in stores. This will help remind customers to stay six feet apart while waiting in line and can also help to reduce the number of people touching the same surfaces.
You can use a tape measure to ensure the distances are accurate. Once you've marked the areas, use a tape dispenser to lay down the tape. If your store has heavy traffic, you may also want to put the tape in other areas, such as in front of the restrooms or the break room.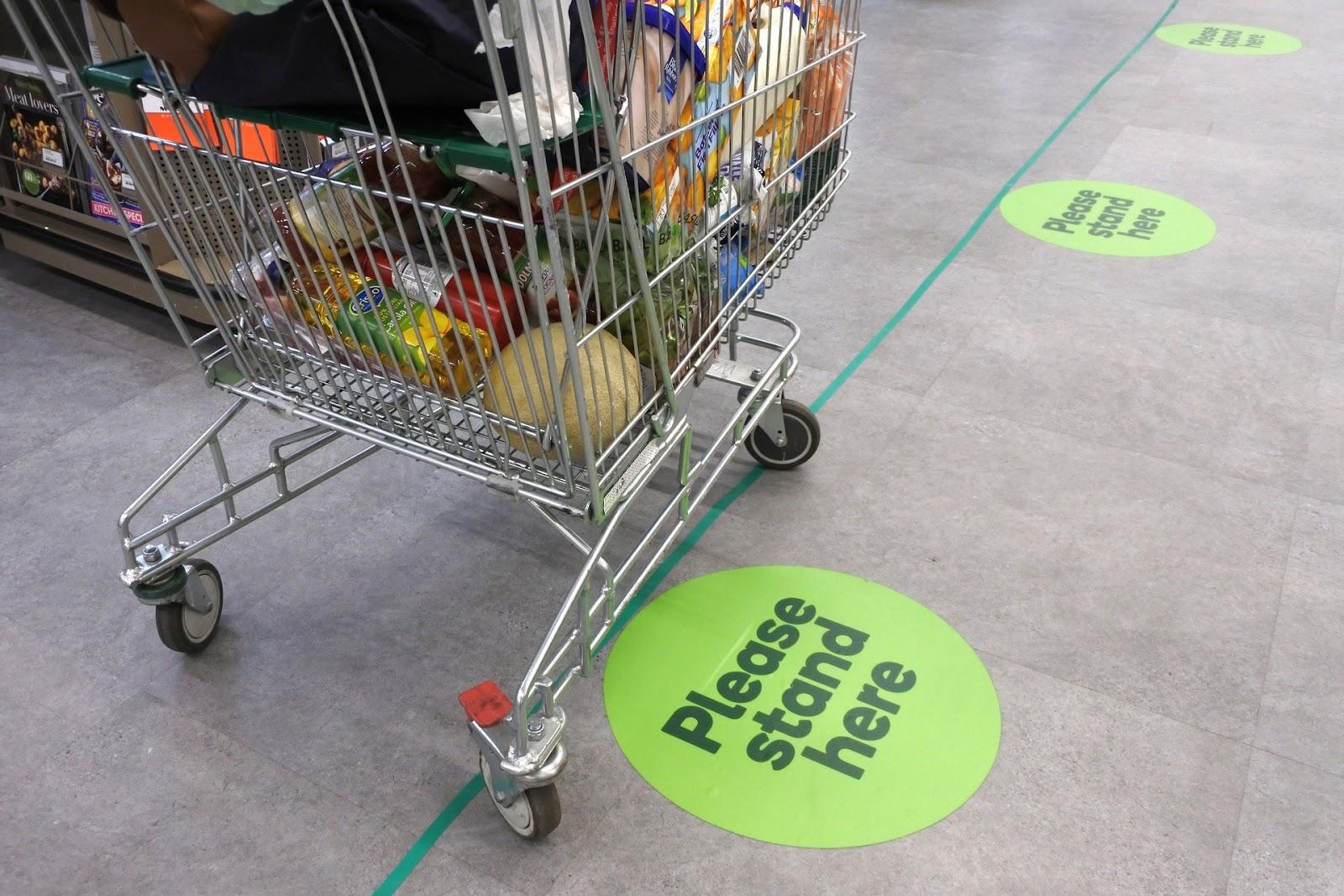 Smart tips
Choose a brightly colored floor marking tape to ensure that you catch the customer's attention, as most people in a queue aren't looking down.
Use aisle marking tape to indicate which queues are "fast lanes" or lanes where people with fewer items can check out quickly.
If you have a business like a grocery store where people are likely to have large carts, factor this into consideration when you lay the tape.
Utilize bag-sealing tape if you want to give customers additional peace of mind that their purchases are sealed.
In Elevators
Another place where social distancing tape can come in handy is in elevators. Many people use elevators daily, and the larger ones can get quite crowded. By placing social distancing tape on the floor of an elevator, you can help people keep their distance from one another. You can also use tape to mark where people should stand within the elevator to ensure an appropriate distance.
Smart tips
If you're designating where people should stand or sit, remember that some people are wheelchair users or have other mobility aids, so create a larger space or two to accommodate them.
The social distancing tape you use in an elevator doesn't need to be elaborate — a simple "please stand here" printed on vinyl tape will do the trick.
Consider additional signage encouraging individuals to wait for the next elevator if all the designated spaces are full.
Around Water Fountains or Drinking Fountains
Another place where social distancing tape can be helpful is around water fountains or drinking fountains. These are often high-touch areas and can be breeding grounds for germs. By placing social distancing tape around these areas, you can help people avoid them altogether or take the proper precautions when using them.
Smart tips
Remember that for something like a water fountain, social distancing in the queue isn't a complete solution. Consider heightened disinfecting measures to further combat the spread of viruses.
Use durable, waterproof floor tape so you won't have to worry about any spilled water causing it to warp or peel.
On Sidewalks or in Parking Lots
Do you need to mark safe walking routes on your property? Social distancing tape is an easy way to do that! It's perfect for paths, sidewalks, and parking lots because it gives people enough room to avoid bumping into one another. There's little hassle on your end: You can simply unroll the provided strip from its dispenser onto any flat surface and then press it down so it adheres. Since the marking tape is made of weatherproof material, it can withstand the elements without fraying or curling.
Smart tips
Choose a reflective marking tape to ensure that the tape is still visible on cloudy days or at night.
Footstep-shaped floor marking tape is a great way to indicate a walking path.
At ATMs or Other Machines Where People Stand Close Together
If you have an ATM on your property, use floor marking tape to indicate how far away people should stand from the machine and each other.
Smart tips
Even if the world someday finds itself in a place where social distancing is a thing of the past, consider keeping this floor marking tape in front of ATMs. It also works to prevent identity theft by ensuring that people keep a significant distance from one another while entering sensitive information.
In Lobbies or Reception Areas
Lobbies and reception areas are often high-traffic areas where people tend to congregate. To help maintain social distancing, use social distancing tape to mark a safe distance in these areas. You can also use it to create a barrier between people and the furniture in these areas.
Smart tips
If you have hand sanitizer stations, floor marking tape can be a great way to point them out to people.
Encouraging people to keep the chairs between them empty is a great way to stay safe in a waiting room.
In Offices, at Desks, or in Cubicles
It's no secret that many people struggle to practice social distancing in the workplace. Keeping everyone at a safe distance can be challenging if they're used to working in close quarters or the office lacks enough space to spread out.
One way to encourage social distancing is to use social distancing tape to mark off areas where people should sit. You can do this on desks, in cubicles, or even on the floor. Tape is an easy way to create a visual cue that will remind people to maintain a safe distance from one another. Plus, it's a relatively inexpensive solution that's easy to implement.
Smart tips
Remember, floor marking tape and safety tape aren't just for the customers. People should practice social distancing at work the same way they do at businesses where they are customers.
If your place of business is a factory or warehouse, opt for nonskid tape to add an extra layer of safety to your social distancing measures.
On Public Transportation
One of the best ways to practice social distancing is to use social distancing tape on public transportation. This tape will help ensure that people sit or stand at least six feet apart.
Smart tips
Consider placing a few vinyl tape markers on windows or the walls of your bus or train to ensure that passengers observe the guidelines of the floor marking tape. Remember, not everyone is looking down as they go about their daily activities.
As always, social distancing tape isn't a replacement for added hygiene measures. Even with the benefit of floor marking tape, handrails and surfaces can still harbor viruses. Be sure to use additional sanitizing measures to keep everyone safe and healthy.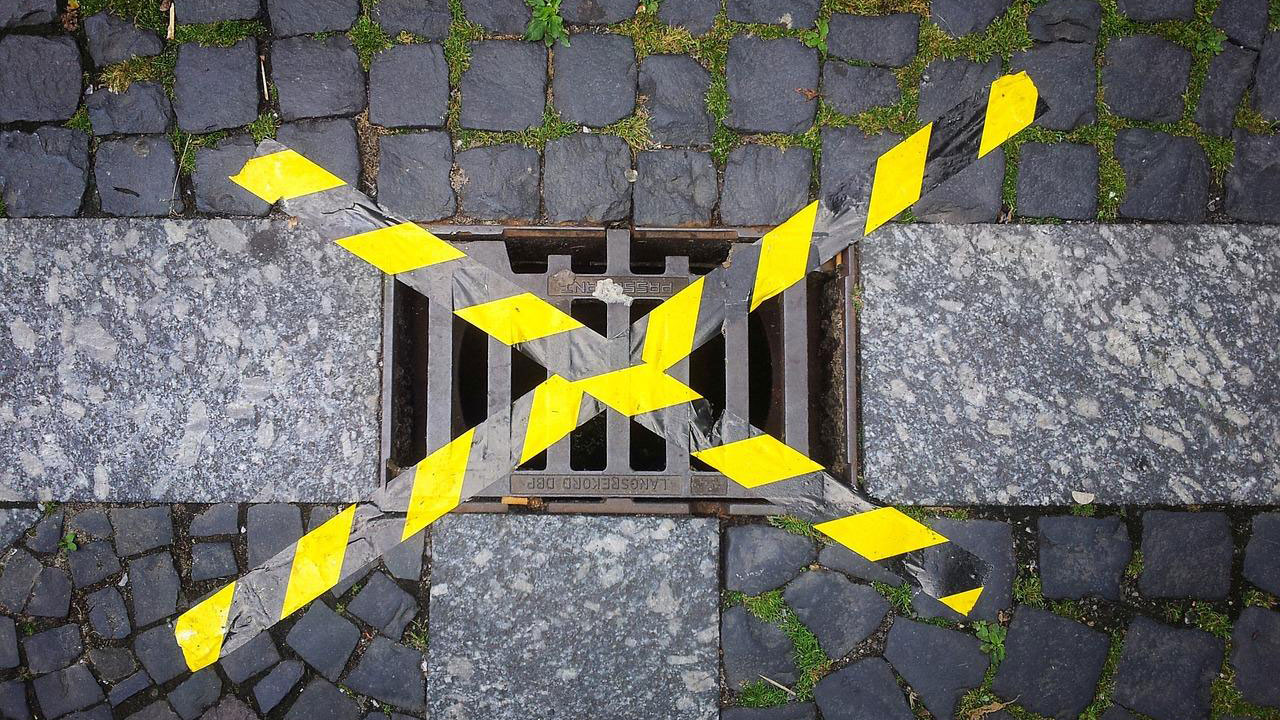 Benefits of Social Distancing Tape
There are many benefits to using social distancing tape. This type of tape can encourage people to keep a safe distance from one another, reducing the spread of viruses. Additionally, social distancing tape can help create a more organized environment.
As mentioned earlier, many businesses may keep using floor marking tape for non-health reasons, such as privacy around ATMs. This marking tape can keep foot traffic orderly and ensure that people keep a comfortable distance from one another in situations where sensitive information may be disclosed, such as a bank or doctor's office.
Tape Jungle's floor marking tape has the following advantages:
Simple to use and apply
Offers a quick bind and simple, clean removal
Works both indoors and outdoors
Adjusts to different surfaces, including uneven surfaces
Resistant to abrasion, corrosion, and humidity
Sturdily constructed to endure abrasive cleaning, as well as heavy foot and vehicle traffic
Wide variety of widths, hues, and stripes for the best visibility and signaling
Floor Marking Tape FAQs
Is floor marking tape only for social distancing?
Not at all — Tape Jungle has been manufacturing high-quality floor marking tape and safety tape long before the pandemic began and will continue to do so. The only limit to floor marking tape applications in your business is the scope of your imagination.
How can I mark off a dangerous or inaccessible area on a budget?
Hazard duct tape is an easy and inexpensive way to mark off a dangerous or inaccessible area. The classic yellow and black design is universally recognized as "off-limits," which means it will convey your message to anyone no matter what language they speak. This makes it a great option for workplaces that hire a linguistically diverse or international staff.
Does floor marking tape make the floors more slippery?
Standard hazard duct tape won't exactly make the floor "slippery" per se, but there's a better option for those who want an added layer of traction and safety. Try nonskid tape or an anti-slip tape (such as Sure Step tape) to further prevent any slips or injuries.
What if I want custom-printed tape?
Tape Jungle offers custom-printed tape that can help you to meet a myriad of business needs. For e-commerce businesses, creating packaging tape with your company's logo can be a great way to brand your business and promote your products. While your needs might seem quite specific or out of the ordinary, Tape Jungle can help you turn your vision into a reality.
Couldn't I just use floor paint?
You could, but floor marking tape offers multiple advantages that paint simply does not. First, the actual painting process can be tricky, as you need to ensure proper ventilation and dry time, and you might not always achieve the precise lines and angles you were hoping to create. With floor marking tape, your lines and angles will be sharp every time, and you won't have to worry about budgeting a whole day for application and dry time.
Removal is also a big factor to consider here. To remove floor paint, you'll likely need to use heavy-duty chemicals and buffers that could damage the floor underneath. Floor marking tape, although weatherproof and quite durable, can be easily removed without damaging the floor below it.
What Makes Tape Jungle Social Distancing Tape the Best?
With years of industry experience and knowledge, Tape Jungle is a leading global manufacturer and supplier of social distancing tape and many other quality tapes. The COVID-19 pandemic may have shaken the world and disrupted our normal lives, but the talented crew at Tape Jungle remained committed to using our products to enhance public safety. We've helped hundreds of businesses promote safety and prevent transmission of COVID and other viruses on their premises.
We're happy to do the same for your business. Get in touch with Tape Jungle today to learn more about how social distancing tape can help you create a healthier environment and protect your workers and valued customers. We can help with so much more than social distancing, too. Make sure you check out our variety of floor marking tapes that can suit all of your needs.