Posted by Tape Jungle on Dec 10, 2023
What do HVAC systems, splinters, and warts all have in common? Duct tape will repair them all. That's right, duct tape can seal HVAC ducts, dissolve warts, and remove splinters. It can also do so much more, as you'll see in the article below.
Duct tape is a type of cloth tape with a strong adhesive that is easily torn by hand. But despite being easy to tear, it's strong enough that you don't have to be concerned about the tape twisting or curling while being applied.
There are numerous household applications for duct tape. Additionally, factories and contractors can benefit greatly from using heavy-duty and industrial-grade duct tape. Duct tape has even been used by the military to seal ammunition cans and make easy, temporary repairs on machinery.
Duct tape isn't just for contractors, factory workers, and military service members. It can be used by just about anybody for just about any taping purpose. Everyone should have a roll available in their home.
What is Duct Tape?
Duct tape was invented around World War II and was first produced to repair military tools and vehicles. Contrary to popular belief, there does not seem to be any evidence that it was originally called duck tape, though the product was made with cotton duck.
By the 1950s, duct tape was being produced as the gray tape we know today to blend in with the duct work it was primarily used for. Duct tape works well for heating, venting, and air conditioning (HVAC) due to its moisture-resistant and temperature-resistant qualities, able to work as an air barrier and seal ducts. It is still widely used for this purpose to this day.
Of course duct tape has many more uses than just sealing HVAC ducts. It has even been used in outer space, most famously on the Apollo 13 mission.
Back here on Earth, it can be used by all sorts of people for all sorts of projects. Contractors use it for construction projects; it can be used in industrial settings to seal equipment or machines; it can be used in the office for labels or in commercial settings to seal boxes; and it can be used by homeowners for arts and crafts, or to fix, seal, or hold almost anything in the house.
I. Types of Duct Tape Available
Below are some of the tapes you can purchase today at Tape Jungle.
Colored Duct Tape
Colored duct tape provides an excellent way to color code inventory. Its durability also makes it great for floor marking. This tape is a polyethylene-coated cloth with a natural rubber adhesive and is water- and abrasion-resistant. All duct tapes conform well to irregular surfaces and will not twist or curl when applied.
Tape Jungle offers 18 color options and 11 width options from 1/2" (12 mm) to 12" (304.8 mm). This duct tape can be purchased by the roll or case.
The following colors are available for purchase at Tape Jungle:
Silver Gray
Black
White
School Bus Yellow
Yellow
Sky Blue
Dark Blue
Teal
Pink
Red
Burgundy
Racing Orange
Purple
Racing Orange
Tan
Dark Brown
Dark Green
Light Green
Olive Drab
If you don't have a particular color in mind, choose the "surprise me" option at checkout to get an additional 10% off.
General Purpose 7 mil Duct Tape
General-purpose duct tape is used for just about everything. Its strong adhesive allows it to bond with rough and irregular surfaces. In addition, it is moisture-resistant, allowing it to perform well outside. This tape is made from a polyethylene film reinforced with polyester cloth and has a natural rubber adhesive. It has great tensile strength and temperature resistance up to 160° F.
Colors can either be black or silver-gray.
Common uses for this tape include:
Sealing boxes
Sealing duct work
Sealing joints and wrapping pipe
General Maintenance Repair Operations (MRO)
Multi-Purpose 9 mil Duct Tape
Multi-purpose 9 mil duct tape is a little thicker than general-purpose duct tape, which is 7 mils thick. As a result, this tape provides a little more strength for tougher jobs such as heavy carton sealing, carpet fixing, and pipe wrapping, in addition to general maintenance and duct sealing. The width of this tape is 2" (48mm).
Common uses for this tape include:
Bundling
Sealing heavy cartons
Wrapping pipe
Repairing carpet
Seaming air conditioning joints and ducts
Contractors Grade 12 mil Duct Tape
Contractor duct tape provides the ultimate strength for heavy-duty jobs. It is 12 mils thick, making it the thickest and strongest duct tape available on Tape Jungle. It can bond to almost any surface, including porous surfaces, and has excellent resistance to tearing and moisture. Widths available are from 1/2" (12mm) to 12" (288mm).
This tape is best used for:
Sealing duct work
Repairing vinyl
Sealing HVAC thermal insulation
Creating a moisture barrier in areas requiring high shear strength
Asbestos abatement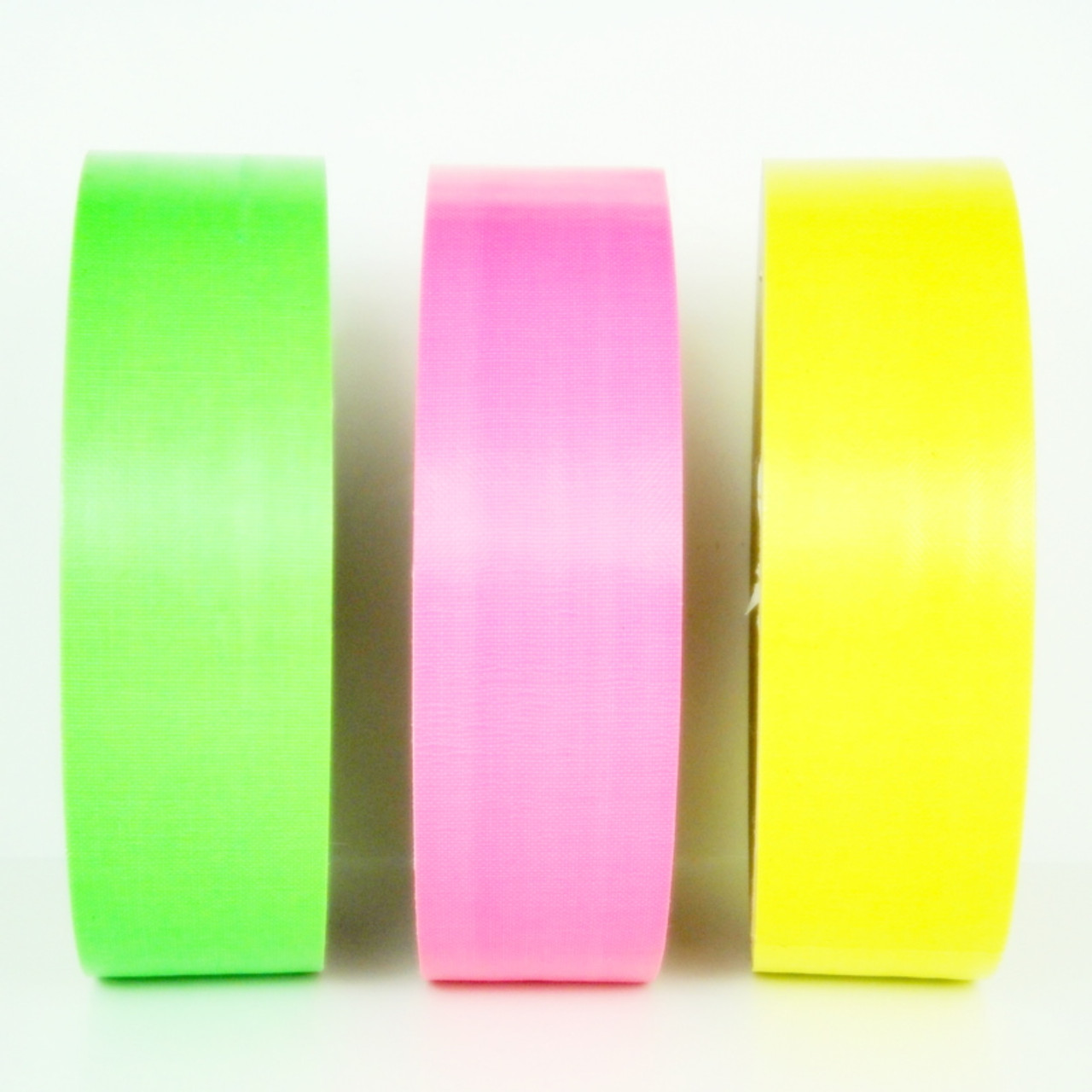 Fluorescent-Colored Duct Tape
This fluorescent-colored duct tape has high visibility in dark places. It is 11.8 mils thick and has a strong adhesive, able to bond to almost any surface. It also removes cleanly without residue.
Fluorescent-colored duct tape offers particular benefits in the following settings:
Night clubs
Music-halls
Areas with black lights
Amusement parks that are open at night
Stages and concert halls
Floor marking in theaters
Tape Jungle has four fluorescent duct tape color options available:
Widths available range from 1/2" (12mm) to 12" (288mm).
Camouflage Cloth Duct Tape
Camouflage cloth duct tape might seem like a color option that just looks cool; however, it has several practical uses. With a thickness of 11.8 mils, it is heavy-duty duct tape that is durable and perfect for outdoor use.
This tape has many uses for the following activities:
Camping
Fishing
Hunting
Backpacking
The tape grade is similar to contractor-grade tape, allowing for HVAC and heavy-duty uses. Widths available range from 1" (24mm) to 6" (144mm).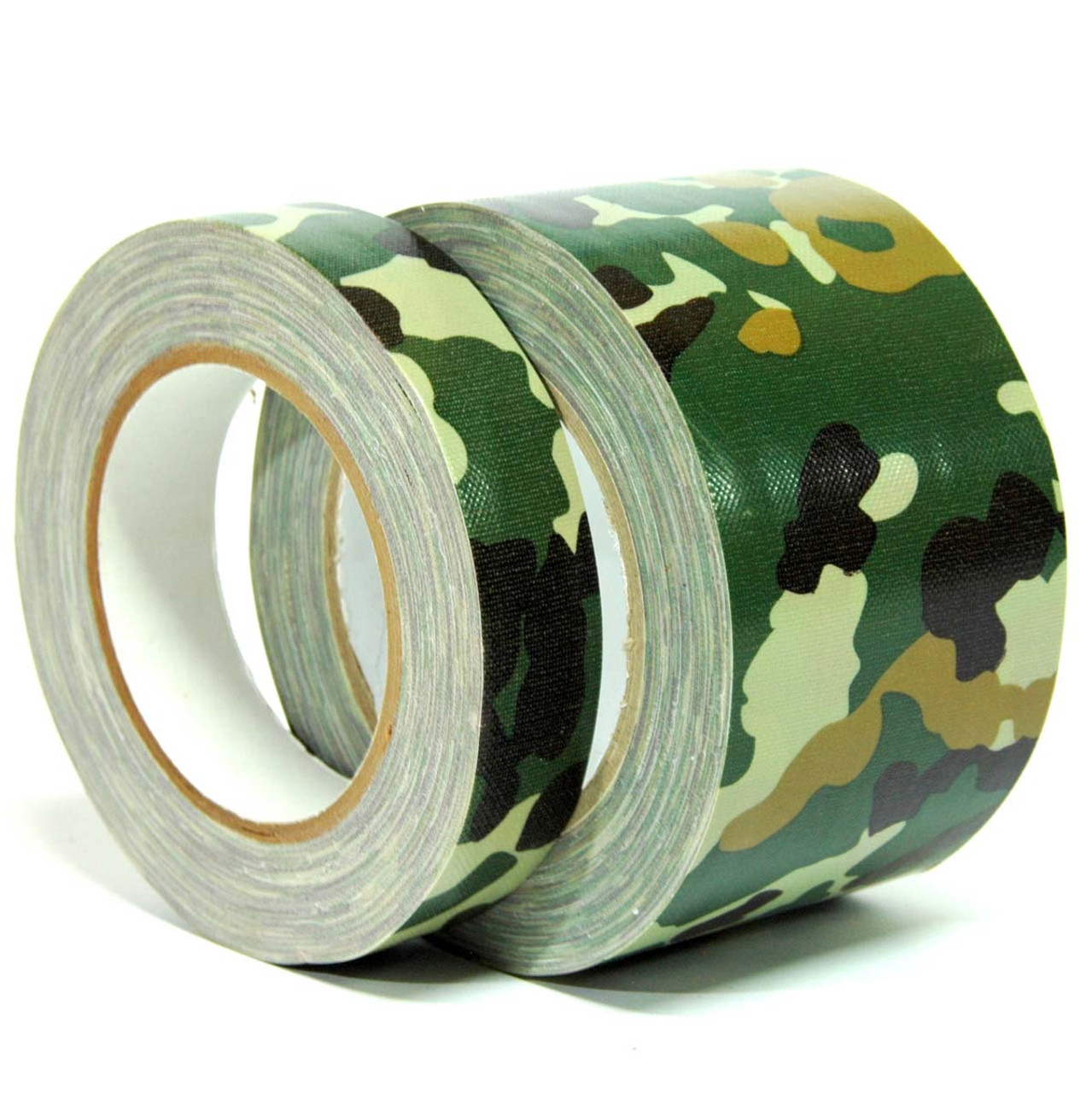 Hazard-Striped Duct Tape
Hazard duct tape is regulated by OSHA (Occupational Safety and Health Administration). The yellow and black stripes are required to mark potential hazards such as electrical areas.
Uses for this tape include:
Warning for tripping hazards
Warning for low beams
Marking steps
Marking floors and aisles to differentiate work zones
The width of this tape is 2" (48mm).
II. How to Use Duct Tape
One of the best features of duct tape is that it has a soft cloth backing that is easy to tear by hand. You won't need a hand-held taping dispenser or a tabletop taping dispenser.
Duct tape is very easy to use:
Simply hold the roll in your hand, pull out the length required, and rip it perpendicular to the length of the tape.
The tape should easily tear by hand, leaving a straight line cut at the end.
The remaining tape can stay on the roll as-is and will be easy to lift to tear another length of tape.
Application of the tape is easy: simply press down and smooth over the tape with your hand.
The tape is removable and any duct tape residue left behind can be easily cleaned.
In addition to being easy to use, duct tape has a wide variety of use cases.
Industrial Uses
Duct tape can repair or seal machinery and equipment. It can be used under the hood of cars or trucks to seal air hoses. It can be used to seal items shut, such as ammo cans or cartons. Use duct tape to differentiate work zones or dangerous areas. Color code rooms, doors, and other areas.
Office and Commercial Uses
Duct tape can be used in offices or commercial settings as packaging tape or to mount items on the wall. You could also use it to seal the ductwork of an office or store.
Home Improvement Uses
Whether used by homeowners, renters, or handymen, duct tape has a wide set of uses for home improvement projects. All HVAC ducts in the home can be sealed. Duct tape can be used as an air or light barrier around windows.
The above is not an exhaustive list of every use for duct tape. Whatever your purpose, you can meet all your duct tape needs at Tape Jungle.
III. Conclusion
Duct tape has a long and fascinating history of being used as military tape, emergency tape, industrial tape, and as a general-purpose tape that can save the day whenever you needed something sealed, packaged, mounted, or taped.
In addition to duct tape, Tape Jungle offers a wide range of tape, dispensers, and taping supplies to meet all of your taping needs. Tape Jungle offers over 300 types of tape and supplies such as handheld tape dispensers and large industrial-sized tabletop tape dispensers.
Tape Jungle offers:
Duct tapes
Digitally printed tape
Paper tape
Custom tape
Safety tape
Adhesive tape
Foam tape
Tape dispensers
Glow-in-the-dark tape
And hundreds of other tape and taping tools
Contact Tape Jungle Today
Shop for a selection of tape materials, thicknesses, colors, and widths. Find the perfect tape and taping supplies, including bulk duct tape orders, at Tape Jungle. Choose Tape Jungle for fast delivery, secure online shopping, easy returns, and our first-rate customer service.
If you can't find what you're looking for, let us know! Contact us at Tape Jungle today and someone from our team will help you figure out what tapes and tape supplies are best for you and your unique taping needs.