Posted by Tape Jungle on 06/20/2023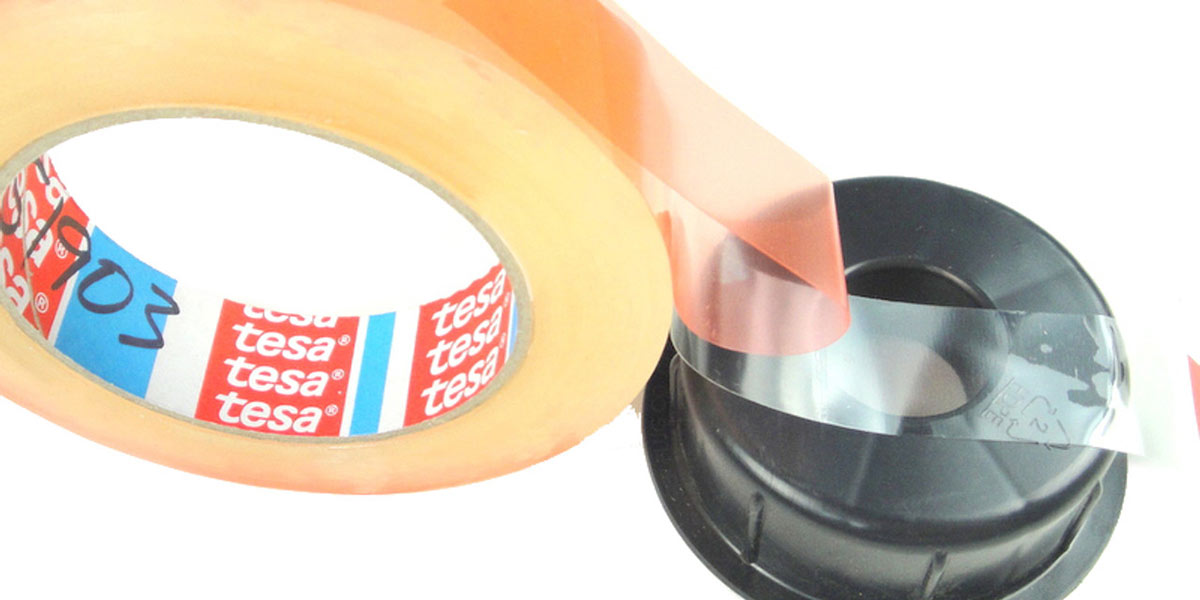 Double-sided tape is a versatile adhesive solution. It provides a convenient option for adhering two surfaces together without mess or hassle and has many uses, from crafts to industrial projects.
When you need some tape for any project, look no further than Tape Jungle. We can meet all of your double-sided tape needs with our vast selection of products.
Understanding Double-Sided Tape
Double-sided tape, also known as double-coated or double-faced tape, has adhesive on both sides, allowing it to connect two surfaces. The tape is invisible when sandwiched between them.
Double-sided tape has a layer of paper or foam on one side to prevent it from sticking to itself. As you apply the tape, you remove the backing to expose the sticky surface of the second side.
Adhesive options include:
Rubber

Inexpensive
Sticks quickly
Best for indoor use
Removes cleanly
Short life span

Acrylic
Long-lasting
Durable
Strong bond
Indoor or outdoor use
Tolerates heat well
Incredible sticking power
Advantages and Benefits
Double-sided tape has a range of benefits, which is why so many people use it in multiple ways.
Versatile Bonding Solutions
Double-sided tapes are incredibly versatile, with many temporary or permanent bonding options. Their type of adhesion allows for even weight distribution instead creating pressure points like other joining options may do. It's easier to combine uneven surfaces without distorting or damaging your project.
This tape can replace screws and bolts, clips or fasteners, glue, and staples with a clean finish. It is gentle on surfaces, so you can use it on many different materials, from delicate paper to tricky fabric to strong metals. Double-sided tape also works well under stress and will never corrode. It seals fully and provides shock absorption, making it a great insulator for muffling noise.
Ease of Use and Convenience
Double-sided tape is easy to use and convenient, without the mess of glue or similar adhesives. You don't need to do much prepping for installation or buy special tools. However, applying the tape with a dispenser made for double-sided tapes makes things even easier. The device will allow you to easily apply the tape in a straight line while removing the backing for you.
You also don't have to apply clamps to ensure the adhesive. If you choose the right type of tape, it should stick quickly and set fast.
Invisible and Aesthetically Pleasing
Double-sided tape produces a more professional and high-quality finish with a discrete and seamless bond.
Because of this characteristic, it is very popular in home décor and crafts. Visible glue or screws can be off-putting and reduce the overall professional look of a piece. Those who value craftsmanship use double-sided tape due to its visually appealing finish.
Double-Sided Tape Applications
The versatility of double-sided tape means there is an almost endless number of ways to use this product. Whether you're a hobbyist putting together a model or a professional assembling something in an industry setting, uses for double-sided tape are everywhere.
Mounting and Display
Mounting photos, artwork, or posters in frames is a tedious process. It also requires a careful hand to avoid slip-ups. While glue is a commonly used adhesive in mounting, it can be difficult to apply cleanly. It only takes one mistake to mess up the whole project. And such errors can be very costly.
Double-sided tape isn't as risky. Applying the tape is simple and leads to a cleanly finished piece. Plus, it will last a long time without degrading or losing its adhesive qualities.
For the same reasons, this tape also is an excellent choice for securing signage and promotional materials. It also works well for creating displays for exhibitions or trade shows where you want to put your best foot forward and exude professionalism.
Arts, Crafts, and Scrapbooking
Anyone who does arts and crafts or scrapbooking understands the goal is to have an immaculate final project. Visible glue or other adhesives is off-putting and will lower the value of the craft or art piece.
Many crafters and artists use a glue gun, but it is a less-than-perfect choice. Hot glue is very stringy and messy. Many other glue options are equally unsuited for a neat finished look.
The same issue occurs in scrapbooking. Anyone working with small pieces or intricate designs will struggle to use a glue adhesive and keep the work clean.
This is where double-sided tape can save the day. You can customize the tape size to the project for the perfect invisible finish. Plus, it makes adhering tiny embellishments and elements simple and is ideal for paper crafts. No more hot glue burns on your fingers!
Home Improvement and Repairs
Industrial glues, nails, screws, and other heavy fasteners are commonplace in home improvement and repair projects. But they have a lot of faults. These bonding materials may cause damage or require more work to achieve a nice finish.
Double-sided tape reduces the time and work needed to bond materials. The application is smooth, and the finish is fast. A strong double-sided tape is ideal for tacking down carpets or rugs and mounting objects with a professional finish. Double-sided tape can even assist with temporary installations and repairs since it can be easily removed using heat.
Double-sided tape is great for creating a vapor barrier, too. Vapor barriers require a tight seal to keep out moisture, which is an easy task for this tape.
Industrial and Packaging
Double-sided tape can work in any challenging environment where other bonding materials may fall short, thanks to its strong adhesion and ability to withstand a great deal of stress.
For example, the auto industry has long used double-sided tape to attach interior pieces or bond mirror glass. It is also starting to swap fasteners and rivets for tape.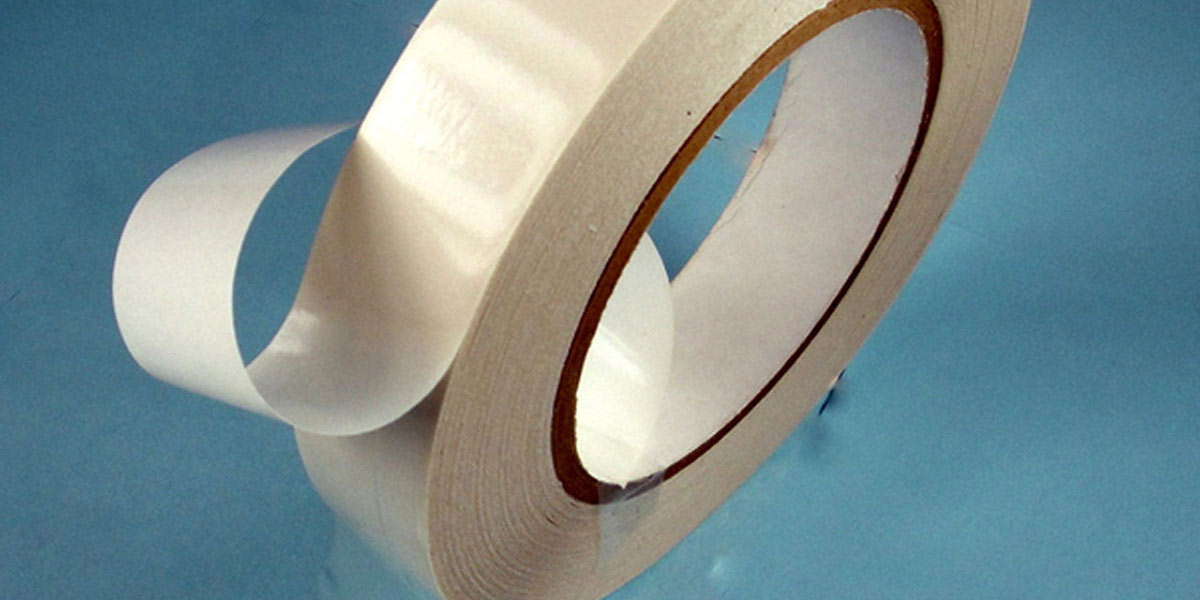 Types of Double-Sided Tape Available at Tape Jungle
Tape Jungle knows that our customers have a variety of needs. With that in mind, we stock a range of double-sided tapes for any project.
Double-Coated Scrim Tape
Double-coated scrim tape uses fiberglass threads. This fine mesh bonds to most surfaces and uses a water-based acrylic adhesive. It is hand tearable, so using it is a snap. Scrim tape is common for use in construction and stands up well to heat.
Available widths include:
3/8 in (9 mm)
1/2 in (12 mm)
3/4 in (18 mm)
1 in (24 mm)
1.5 in (36 mm)
2 in (48 mm)
3 in (72 mm)
54 in (1371 mm)
Tape Jungle also carries extra-thin and heavy-duty scrim tape. Lengths include 36, 60, and 72 yards.
Double-Coated Carpet Tape
Double-coated carpet tape or exhibition tape has a woven cotton cloth coating. This tape removes cleanly and uses a rubber adhesive. It's a top choice for adhering carpets to floors in temporary situations, such as trade shows. It's also used in aircraft manufacturing.
Available widths include:
1 in (24 mm)
1.5 in (36 mm)
2 in (48 mm)
3 in (72 mm)
4 in (96 mm)
60 in (1524 mm)
Lengths available include 25 and 36 yards.
Double-coated Polypropylene Foam Tape
Double-coated polypropylene foam tape is a durable and long-lasting solution for moisture-prone environments. This tape is best used on flat surfaces and is a permanent solution. It will conform nicely because of its flexibility, and you can die-cut it.
Available widths include:
3/8 in (9 mm)
3/4 in (18 mm)
1.5 in (36 mm)
It is available in 55-yard rolls.
Double-Coated Paper Tape
This environmentally-friendly tape option works well on textured surfaces, uses an acrylic or rubber tape adhesive, and is resistant to UV rays and water. It is a great general-use option perfect for mounting applications.
Widths available include:
1/4 in (6 mm)
3/8 in (9 mm)
1/2 in (12 mm)
3/4 in (18 mm)
1 in (24 mm)
1.5 in (36 mm)
2 in (48 mm)
3 in (72 mm)
4 in (96 mm)
39.4 in (1000 mm)
Double-coated paper tape comes in a length of 36 yards.
Double-Coated Polyester Fabric Tape
A permanent adhesive option, double-coated polyester fabric tape has a polyester or cotton cloth base. It is a top choice within the fashion industry. However, it also works well on various surfaces, such as paper, glass, and wood, and creates a strong bond resistant to heat.
Widths available include:
1/2 in (12 mm)
3/4 in (18 mm)
1 in (24 mm)
1.5 in (36 mm)
2 in (48 mm)
3 in (72 mm)
4 in (96 mm)
54 in (1371 mm)
It is available in lengths of 25 and 36 yards.
Double-Coated PVC Tape
Double-coated polyvinyl chloride tape or PVC tape uses acrylic adhesive. It is durable and versatile, making it ideal for home improvements and repairs. It is often a top choice within the automotive industry. It is resistant to UV rays and moisture, so you can use it indoors or outdoors.
Widths available include:
3/8 in (9 mm)
1/2 in (12 mm)
3/4 in (18 mm)
1 in (24 mm)
1.5 in (36 mm)
2 in (48 mm)
3 in (72 mm)
4 in (96 mm)
39.4 in (1000 mm)
Lengths available are 36 or 72 yards.
Double-Coated Tissue Tape
Double-coated tissue tape has a rubber adhesive that dries quickly. It's suitable for many arts and crafts projects. The fashion industry also uses this tape.
Available widths include:
1/4 in (6 mm)
3/8 in (9 mm)
1/2 in (12 mm)
3/4 in (18 mm)
1 in (24 mm)
1.5 in (36 mm)
2 in (48 mm)
3 in (72 mm)
4 in (96 mm)
6 in (144 mm)
54 in (1371 mm)
It is available in 60-yard rolls.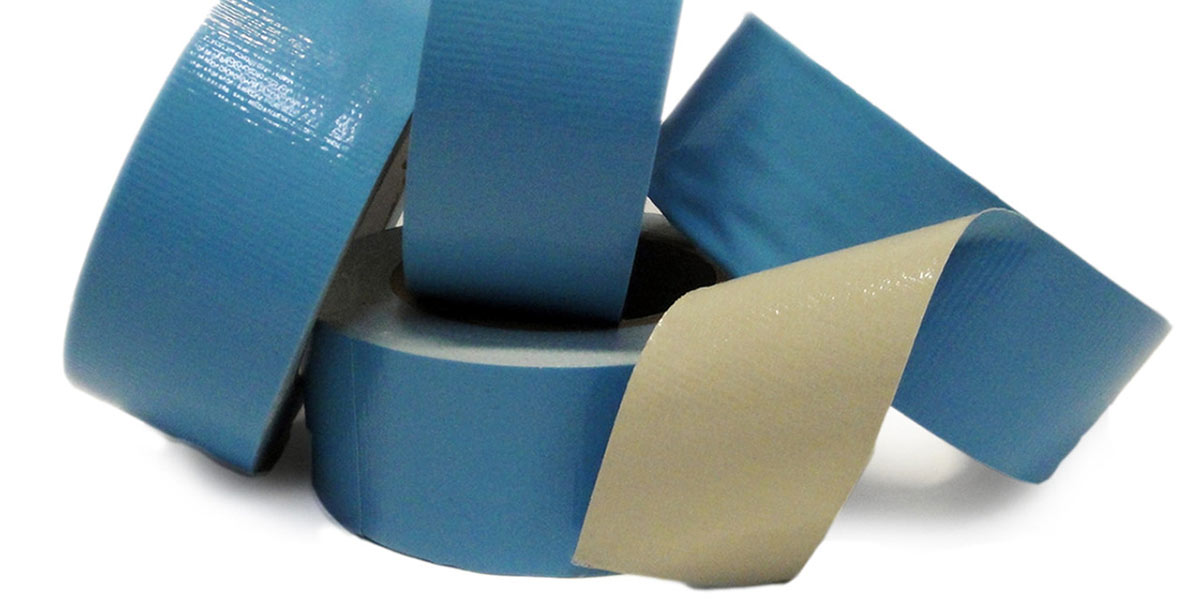 Choosing the Right Double-Sided Tape
Since there are so many options for double-sided tape, choosing the right one can seem overwhelming. There are three considerations that can make your choice easier.
1. Adhesive Strength and Compatibility With Materials
Your first consideration is the adhesive type you need. Remember that rubber adhesive works quickly but can't withstand higher temperatures. It also isn't great for long-term adhesion. However, silicone can handle high-heat environments and has the strongest bond. Acrylic works indoors or outdoors and also has a stronger bond than rubber.
You need to consider how strong the adhesive is and whether it will work with your materials. For example, acrylic tape bonds nicely to complex materials, such as rubber or silicone, but rubber adhesive needs a smooth surface that isn't too hot or cold.
2. Surface Characteristics and Environmental Conditions
The type of surface and the environment are also essential when picking double-sided tape. You will want to consider the surface energy. There is favorable surface energy when the surface and tape bond easily. Glass is a great example. Materials that don't adhere well cause negative surface energy. Plastic often will take poorly to adhesives, for example. The surface energy can help you determine the adhesive strength you need in your tape.
You'll also need to consider the environment. Some tapes may work decently outside, but not if constantly exposed to cold, heat, sun, or moisture. Others won't adhere at all.
3. Application Requirements and Desired Bond Permanence
Do you need something that will last a long time, or is this a temporary fix? Think about whether you will need to remove it and if you require a quick cleanup.
Double-sided tape is very project-specific since there are so many types available. For example, you wouldn't want fabric tape if you try to bond something with moisture exposure because it won't hold up. Yet, that fabric tape would be the perfect choice if you want something for quick fixes at a fashion show.
Installation Tips and Techniques
You can apply double-sided tape with or without a dispenser. Note that a dispenser can make the process much easier for bigger projects.
Prepare the surfaces: Before you apply double-sided tape, you want to prepare both surfaces. Adhesives will adhere best under dry and clean conditions. Wipe down the surface, and make sure it is not too cold or hot.
Prepare the tape: Load the tape correctly into the dispenser or cut it to your desired length. Make sure to measure twice!
Apply the tape: Smoothly and firmly fix the tape to the surface. Avoid any air bubbles or crinkles. You can quickly reposition it if needed as long as you do not apply pressure.
Remove backing: Once you get the tape in place, pull off the backing to reveal the second side.
Stick to the second surface: You can now attach the tape to the second surface. Make sure you use firm pressure.
Tips for Using Double-Sided Tape
Before you start your project, note some helpful tips for double-sided tape use:
Apply tape on room-temperature surfaces only. It will not stick well to cold surfaces because the adhesive loses stickiness in low temps. This is true even if you use a tape rated for cold temperatures.
Store your tape correctly. Avoid letting it sit in the sun or a hot room. High temperatures reduce the adhesive's stickiness.
Match your tape to the surface. Most tapes work well on smooth surfaces. But if you have a rough or uneven surface, you must ensure the tape will stick well.
Apply tape slowly. You want to take your time so that the application is precise. Moving too fast introduces wrinkles and can lead to mistakes.
To remove double-sided tape, use a heat gun or hair dryer to apply light heat over the surface. The tape should loosen and come right off. Heat also works to remove any left behind residue. This will work for even heat-resistant tape as long as heat is directly applied to the tape.
Double-Sided Tape Is a Winner for Many Projects
Double-sided tape is highly versatile and easy to use. It provides a winning option in many situations and allows for a professional and neat finished project.
Tape Jungle offers an excellent selection of products to meet any need. We sell high-quality tape that comes in a variety of lengths and widths so that you can always find what you need.
Explore our product lines today and unleash the potential of double-sided tape. Whether you are doing a home project, creating art, or looking for a better adhesive in your workplace, Tape Jungle has a solution.
Additional Resources and References
For more information about double-sided tape and Tape Jungle's product lines, see the following links:
If you have any questions or need further assistance, don't hesitate to reach out to our knowledgeable and friendly customer support.