Posted by Tape Jungle on 06/13/2022
PVC vs Polypropylene Tape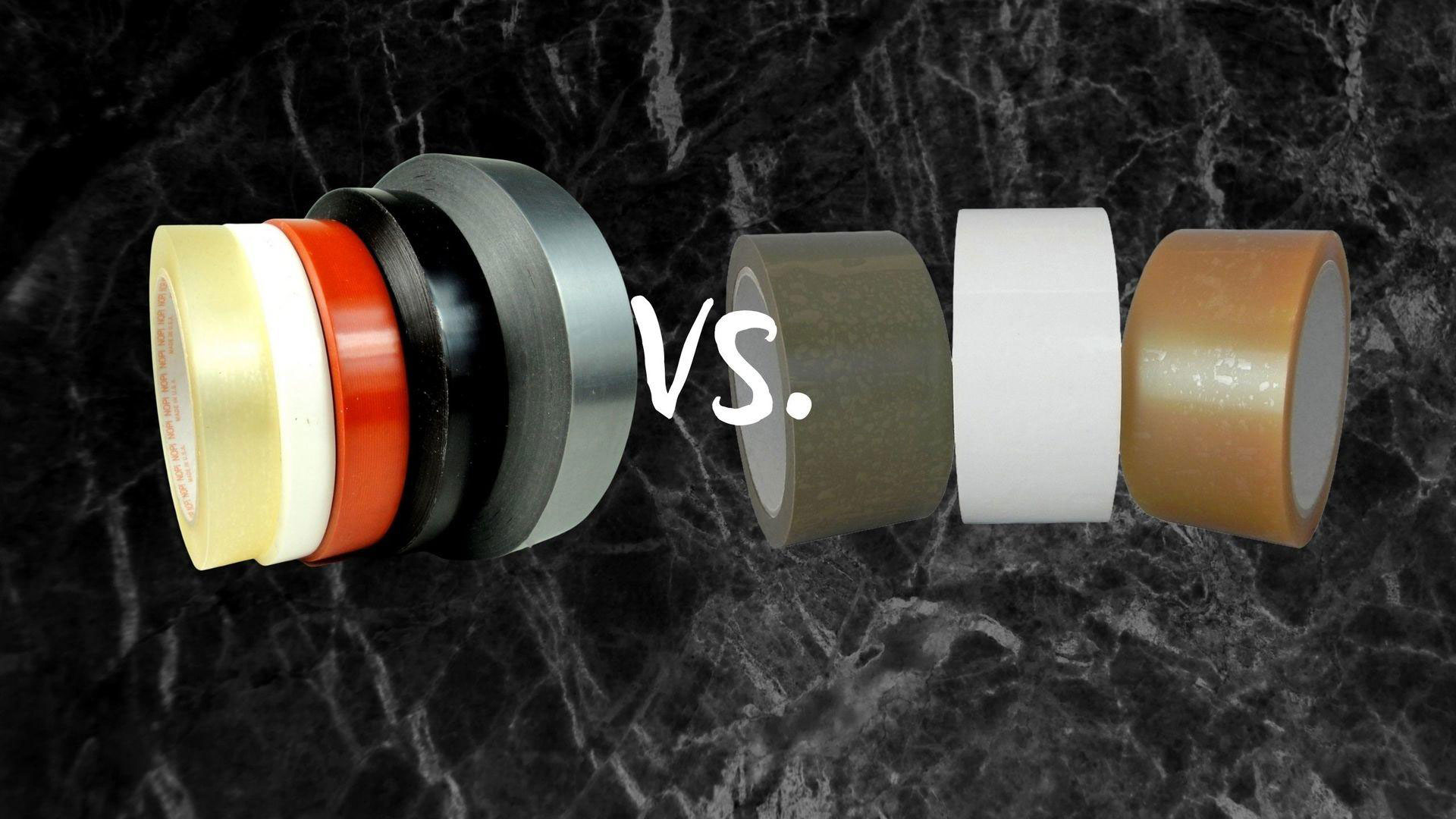 You may be surprised to find how many tape options are out there with different characteristics and uses. Below, we'll break down some of the differences between polypropylene tape and PVC tape to help you make the right choice for your application.
While PVC and polypropylene are some of the most popular tape materials, there are many other tape options for specialty applications as well, such as polyethylene, foam, and foil tapes. You can explore all types by application by checking out the product categories on our homepage.
What Is Tape Made Of?
Tape, or more specifically adhesive tape, consists of two main components that define the tape's properties and uses: a backing material and an adhesive. When we compare PVC tape to polypropylene tape, we are talking about the backing material. Each type is coated with adhesives that are compatible for the backing material and formulated for the intended use.
Polypropylene tape is often coated with an acrylic adhesive, and sometimes rubber adhesives.
Most PVC tapes use a natural rubber adhesive.
What Is Polypropylene Tape?
Polypropylene-backed tape is often called PolyPro tape or poly tape. You've probably encountered this kind before — the ubiquitous clear or brown packing tape on the shelves of every hardware store and post office is an example of polypropylene tape. The fact that PolyPro tape is so common demonstrates some of its key advantages.
PolyPro Advantages
Polypropylene tape is:
Economical
Strong
Easy to customize
Compatible with packaging machinery
Low stretch
High Tensile-Strength Polypropylene Tapes
Don't let standard packing tape fool you: Polypropylene is used as a backing for a variety of specialty, high-performance tapes as well. For example, its high strength and low elongation properties make it the backing of choice for many types of tape where tensile strength is critical, especially when reinforced with fiberglass or synthetic fibers.
For example, Tape Jungle carries a variety of high tensile-strength tapes including:
Polypropylene Carton Sealing Tape
Carton sealing tape is also commonly called packing tape or shipping tape. As mentioned above, polypropylene is the standard choice in packing tape for a reason. PolyPro tape is cheap, reliable, strong, and compatible with standard packaging machinery. Polypropylene tape is the obvious choice for almost anyone looking for a standard packing tape.
However, Tape Jungle carries a range of PolyPro packing tape from the most basic variety to all-temperature, heavy-duty premium tapes, to special-feature tapes like printed (custom and standard) and tamper-evident tapes. For example, compare some of our basic packing tapes and some of our premium offerings:
Custom Printed Polypropylene Tape
More and more, retailers are focused on branding. It's well known now that in a competitive retail market, cohesive branding makes a difference. Exceptional packaging can make a strong first impression on your customers. One of the simplest ways to elevate packaging is with custom packing tape, and polypropylene tapes stand out in this application. PolyPro has several advantages as a custom printed tape:
Available for custom logos, patterns, and graphics in nearly every color
Crisp, durable, and boldgraphics
Prints well with fine details
Compatible with taping machines
Lowest price
Polypropylene packing tape's base economy extends to the realm of custom packing tape, delivering the best value in branding for the price. For more details, check out our selection of custom printed polypropylene tapes.
Polypropylene Cons
PolyPro may not be the best choice for every application. While there is a range of polypropylene products available with premium features, PolyPro may not be your ideal option for a few reasons:
Not flexible — not the best for uneven surfaces
Looks and feels ordinary
Uses adhesives that are generally not watertight or airtight
May not perform in extreme temperatures
May not maintain performance for extended storage periods
Loud when dispensed from the roll
What Is Polyvinyl Chloride (PVC) Tape?
PVC tape utilizes a backing made of a thin film of polyvinyl chloride. While PVC tape is usually a specialty or premium product, everyday people may be familiar with one of the most common forms of PVC tape: electrical tape. But PVC is also growing in popularity in luxury packaging. So why should you consider PVC tapes?
PVC Tape Advantages
For a more premium user experience or special applications, polyvinyl chloride is a tape backing material that offers some unique properties. PVC's main advantages are:
Flexibility — conforms and sticks to uneven surfaces
Works well in cold temperatures
Offers a unique, premium feel and look
Quiet when dispensed from the roll
PVC Specialty Tapes
PVC tape lends itself to certain special applications. Most applications relate to its inherent flexibility and its ability to seal out air and water.
Sealing
Because it is flexible and waterproof, PVC is used in pipe-wrap tapes that protect conduit and pipe joints underground from corrosion and groundwater infiltration.
Electrical
Because PVC tape is waterproof and highly electrically insulating, this is the material of choice for electrical tape. In addition, PVC tape is used for masking metals in electroplating operations, as it is also highly resistant to acids, bases, corrosive chemicals, and solvents.
Long Lasting
PVC is naturally UV-resistant, and when paired with high-quality adhesives, PVC tapes are the top choice for permanent and semi-permanent applications, like floor marking in factories or safety warning marking. PVC tape is also used as a base for die-cut sticker rolls and double-sided adhesive tape, for its superior flexibility and adhesion to rough surfaces.
PVC Packing Tape
Polyvinyl chloride tape is becoming popular as a carton sealing tape as well. Polypropylene is the ideal packing tape for most users, but PVC tapes offer a few unique advantages to the world of packing and shipping.
Quiet Dispensing
Noise may not be the first consideration that comes to mind with tape, but PVC tape's quiet dispensing can be critical for smaller workspaces where noise could be a problem.
Flexibility
PVC's inherent flexibility allows it to conform to curved surfaces. For example, let's say a watch retailer finds a unique spherical tin to package a space-themed watch in. It loses its aesthetic appeal if it has to be secured for shipping with a piece of polypropylene packing tape that wrinkles over the sphere's curved surface. This is the type of special situation where flexible PVC tapes can shine.
Superior Performance
PVC tapes tend to perform better than alternatives in environments where exposure to the elements may occur — extreme temperatures, UV radiation, chemicals, or weather.
Premium Packaging Experience
Customers notice the little things. A soft, matte, smooth-cutting PVC tape may just take the unboxing experience to the next level and set you apart from your competition. It's a packaging trend you'll see employed by a host of luxury brands.
Custom Printed PVC Packing Tape
PVC packing tapes can be custom printed as well, so a premium packaging experience and an elevated approach to branding can go hand in hand. However, custom printed PVC tapes usually come with a higher price tag.
In addition, custom graphics must be designed with the unique surface of PVC in mind, because the print quality isn't quite as crisp and detailed as printing on PolyPro tape can be. For PVC tape, it's best to stick with larger, bolder designs and text. PVC is also generally more opaque than polypropylene, which can be crystal clear. However, PVC tape's frosty translucence lends a naturally upscale backdrop to custom graphics.
PVC Cons
Polyvinyl chloride tape is a premium product, but that doesn't mean it's always better. Here are a few things you should consider before choosing PVC over PolyPro:
Higher cost
Higher elongation — less rigid tensile strength
Somewhat less detailed custom printing
Must be applied by hand — not compatible with most packing machinery
Which To Choose?
You might be asking yourself, "Which is better, polypropylene or PVC tape?" There's no clear winner. In fact, PolyPro tape and PVC tape complement each other well. While PolyPro has tensile strength, PVC is flexible. PolyPro is economical, but PVC offers an elevated packaging experience. PolyPro is ubiquitous, but PVC offers unique properties for technical applications. Choosing between the two comes down to your goals and applications.
Digital Tape Printing: The Latest Innovation
Digital tape printing is coming soon to Tape Jungle. This new technology will offer customers the lowest minimum orders, the fastest turnaround times, and the highest quality printing on both PVC and PolyPro tape. Digitally printed tape will narrow the gap in both price and print quality between polypropylene tape and PVC tape. Stick around for the latest innovations in tape!
Turn to the Experts
When it comes to tape, it's a jungle out there — but Tape Jungle has you covered. If you're still in doubt, search our products by application, or reach out to us to match you with the perfect product for your application.