Posted by Tape Jungle on Dec 10, 2023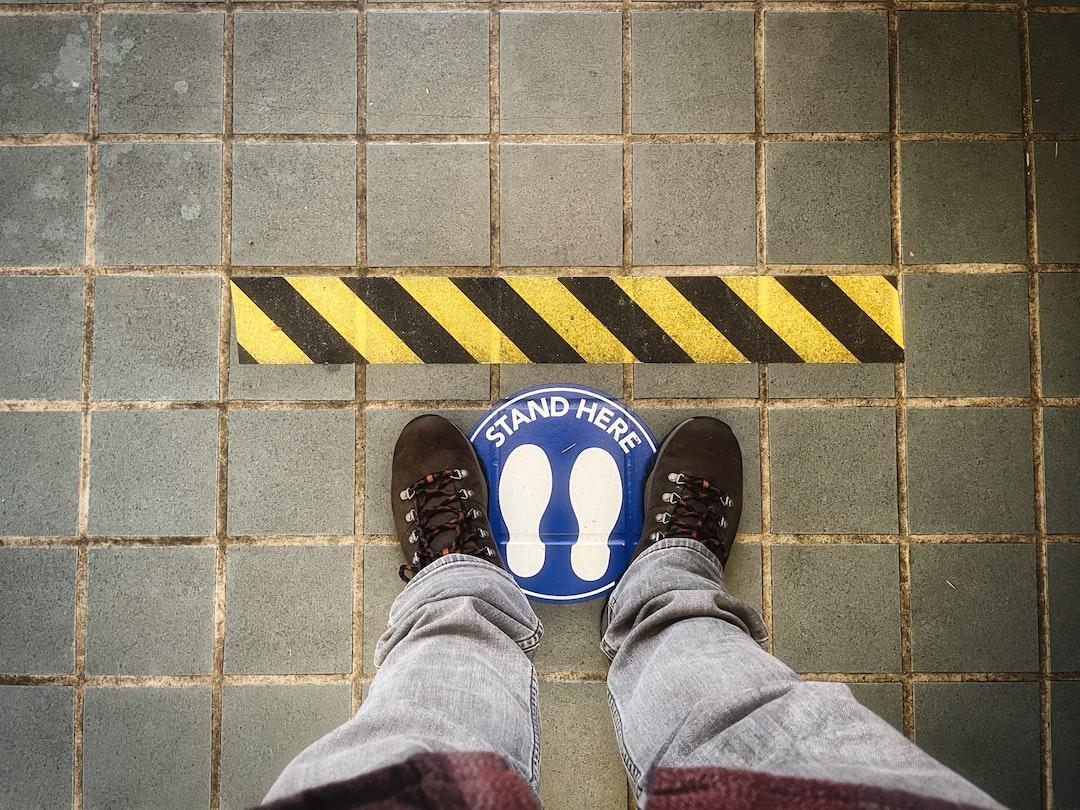 Aisle and floor tape is available in various sizes and materials and can serve many purposes in almost any building. You can use safety warning tape to organize your workflow and reduce risks in your aisles, walkways, hazardous areas, storage areas, and other areas.
Apply floor and aisle marking tape to surfaces like equipment, walls, and walkways to designate safe and unsafe areas in buildings. The aisle and floor tape attach to doors and door trim, and some tape styles glow in the dark to mark exits and hazards when the power goes out.
Floor or marking tape can be highly-reflective, which is helpful in any area where vehicles shine their lights on the reflective tape. Non-skip waterproof tape is available for wet surfaces to prevent slips and falls. Anti-skid varieties can have black and yellow stripes to ensure their visibility. Other tape styles have striped patterns to be used as OSHA color-coded warning tapes to alert others about various situations and hazards.
The design of the safety tape allows it to withstand traffic from forklifts and other warehouse vehicles and heavy foot traffic. Because it conveys critical information when and where it is needed, warning tape makes a facility safer and more effective.
Varieties of safety warning tape
Cloth Floor Marking Tape
Cloth floor tape comes with many great features. It's easy to tear by hand, durable, and water-resistant. Its natural rubber adhesive makes it eco-friendly, and it doesn't twist or curl during application.
Fluorescent Gaffer Tape
Fluorescent gaffer tape is eye-catching and will draw attention to your floors. It is most commonly used to mark stages or areas that have low lighting. The fluorescent color makes it highly visible and prevents people from tripping or falling.
Gaffer tape is durable and doesn't leave residue, making it perfect for stages and convention centers.
Colored Duct Tape
Duct tape is known for its many uses and durability. It's highly effective as a floor marking tape and comes in a wide variety of colors.
Our industrial-grade duct tape is perfect for high-traffic warehouse areas and can withstand traffic from heavy machinery such as forklifts.
Anti-Slip Floor Tapes
High-quality anti-slip tape is water-resistant and helps prevent slips and falls. The tape's backing also has an extra coating that provides an aggressive bond to surfaces.
This tape is excellent for high-traffic areas that are exposed to moisture. It can be used indoors and outdoors to mark everything from walkways to ramps.
Dots and Arrows Floor Tape
The easiest way to provide directions on the floor is with arrow floor tape. Arrow tape comes in seven color options. It is perfect for marking the directional flow down an aisle.
Floor marking dots come in 13 color options and can be used to mark social distancing intervals on floors.
Both the arrows and dots are pressure-sensitive. They are also water-resistant and can withstand heavy traffic areas.
Colored and Striped Vinyl Floor Tape
These tapes are rated number one for all traffic situations, including high-traffic machine areas. Vinyl floor tapes have a strong, rubber-based adhesive and don't require an applicator to install. It also comes with double-tapered edges to allow items to slide over it easily.
Additional features include:
No dry or cure time
Easy peel and stick
No fumes
No messy cleanup
One year warranty
Vinyl floor tapes come in 10 color options and additional safety striped vinyl tape options that meet OSHA standards.
These tapes are also compatible with our aisle or lane marking dispensers. These dispensers can work with tapes that have a three-inch core and can mark lanes up to four inches wide. Marking large areas can now be done in a fraction of the time.
Safety tapes were also instrumental in communicating rules for social distancing and encouraging following safe distance guidelines during the pandemic. See the sections below for common uses of color-coded safety tapes. Also, see information on what specific types you can buy and where to purchase them.
Safety tape uses
Using particular colors to mark floors is not subject to laws or regulations, but specific colors typically indicate certain situations or areas. You can identify color codes on a poster or in safety manuals.
These commonly used colors can serve as a starting point that you can modify to fit the needs of your specific facility:
Black/Yellow. Use for physical hazard and caution. Examples include machines that can cause injuries, storage cabinets for flammable or combustible materials, and containers for corrosives or other unstable materials.
Red/White. Use red and white tape for fire equipment and first aid. Examples include flammable liquid containers, emergency stop buttons, fire protection equipment, emergency egress, and first aid or safety equipment.
Black/White. Use for traffic and housekeeping.
Green/White. Use for decorative identification.
Magenta/Yellow. Use for radiation hazard.
Ensure the safety of your workspace with these color schemes to create floor and aisle marking guidelines. To reduce inventory and make it simpler for employees to remember, use the fewest number of colors possible.
Typical areas to use color-coding:
Work cell and equipment borders.
Material storage areas.
Non-material storage fixtures.
Clear areas for safety and compliance.
Spaces in front of electrical panels.
Operational "keep clear" areas.
Hazardous areas or equipment.
Benefits of using warning tape
Better than paint. On factory and warehouse floors, floor paint traditionally delineated lines and boundaries. When exposed to workplace dangers like forklifts and chemicals, warning tape is more durable than paint. Industrial floor safety tapes are the most practical and cost-effective way to mark aisles because painted lines tend to chip, peel, crack, and require re-painting.
Improves safety. Businesses establish a standardized appearance and color scheme to aid employees in quickly identifying locations and potential hazards based on color.
Increases efficiency. Many businesses mark their floors to improve visual organization in the workplace. As a result, employee productivity increases, thanks to the uniform marking and color scheme.
Meets OSHA standards and regulations. To avoid Occupational Safety and Health Administration (OSHA) fines, mark areas where employees walk and work with safety tape, a tough and long-lasting solution. All businesses are required to mark these areas following OSHA Standard 1910.22 to avoid accidents or injuries.
According to the regulation, if an area with a substantial probability of death or serious physical harm that the employer knew or should have known was not marked to identify safe pathways or highlight dangerous zones, a penalty ranging from $5,000 to $500,000 can result, depending on the violation.
Choose Your Safety Warning Tape
Depending on the requirements of your facility, different floor marking tapes are available. Tape grades range from lightweight to heavyweight, depending on employee or equipment traffic.
Try the Laminated Stripe Safety Warning Tapes from Tape Jungle. These tapes are resistant to oil, grease, solvents, and moisture and will not corrode copper, brass, steel, or aluminum. They are also resistant to scuffs. The tape has a strong adhesive that will stick to nearly any smooth, dry, and clean surface.
According to paragraph 1910.144 of the Federal Register, for striping and warning, marking hazardous areas and exits, and compliance with OSHA requirements, products with hazard stripes have a protective lamination to ensure the printed markings do not fade. These are ideal for identifying first aid stations, hazardous areas, fire equipment, and exits. They satisfy the A-A-1689B Type II specification.
Types of tapes and their specifications are listed below:
Laminated striped safety warning tape, 66050, 6.3 MIL (0.16mm)
Laminated SPVC with a rubber-based adhesive. Shiny surface. Adhesion/Steel: 17.6 oz/in. Tensile Strength: 18 lbs/in. Elongation: 180%. 3" neutral paper core. Only available in 36 yards.
Available in:
Black-Yellow
Red-White
Black-White
Green-White
Magenta-Yellow
Width:
½" (12MM)
¾" (18MM)
1" (24MM)
2" (48MM)
3" (72MM)
4" (96MM)
Laminated striped safety warning tape, 66090, 9.1 MIL (0.23mm)
Laminated SPVC with a rubber-based adhesive. Shiny surface. Adhesion/Steel: 22 oz/in. Tensile Strength: 33 lbs/in. Elongation: 200%. 3" neutral paper core. Stocked in 18 yards only.
Available in:
Black-Yellow
Red-White
Black-White
Green-White
Width:
½" (12MM)
¾" (18MM)
1" (24MM)
2" (48MM)
3" (72MM)
4" (96MM)
Laminated striped safety warning tape, 66640, 6 MIL
Laminated SPVC with a rubber-based adhesive. Shiny surface. Highly conformable. For lane or area marking, color coding, warning, and bundling. Adhesion/Steel: 13.7 oz/in. Tensile Strength: 15.2 lbs/in. Elongation: 210%. Stocked in 18 yards only.
Available in:
Black-Yellow
Red-White
Black-White
Green-White
Width:
½" (12MM)
¾" (18MM)
1" (24MM)
2" (48MM)
3" (72MM)
4" (96MM)
Hazard duct tape, 67210
Hazard duct tape is polyethylene-coated cloth with natural rubber and synthetic adhesive on a 3" neutral core. This black and yellow striped duct tape can be used on almost any surface to mark hazardous areas or to indicate work zones in stores, warehouses, office buildings, and other buildings. Duct tape is available in a variety of colors and widths and can also be fluorescent.
Available in:
Width:
Premium glow-in-the-dark tape, 760XX
This premium glow-in-the-dark tape gets charged by absorbing and storing ambient light and glows green when the lights go out. This tape can be put on the floor to mark exits for egress, on doors for low-light conditions, or when the power goes out. This tape is a flexible, safety grade, non-toxic and non-radioactive photo-luminescent polyester film coated with an acrylic adhesive.
Intensity:
6 hours
10 hours
24 hours
Width:
½" (12MM)
¾" (18MM)
1" (24MM)
1.5" (36MM)
2" (48MM)
3" (72MM)
4" (96MM)
General-purpose color vinyl tape, 65013
General-purpose color vinyl tape is a soft PVC tape with rubber adhesive. It can be used as floor tape to mark aisles or hazardous areas or used on vehicles and equipment. Instructions are easy to write on the surface. It provides an effective vapor and moisture barrier and is resistant to fungus, oil, bacteria, sun, water, aging, acids, alkali, and corrosive chemicals. Also available in industrial grade and heavy-duty vinyl floor tape.
Available in:
Black
Clear
Dark brown
Dark blue
Emerald green
Gray
Kelly green
Orange
Purple
Red
Sky blue
White
Yellow
Width:
½" (12MM)
¾" (18MM)
1" (24MM)
1.5" (36MM)
2" (48MM)
3" (72MM)
4" (96MM)
6" (144MM)
Reflective tape, HXREF, SPFLY
High-intensity retro-reflective tape used to mark safety cones, trailers, or any area for increased visibility for safety, has a honeycomb prismatic pattern. Available in 10 yards or 50 yards. Standard-grade reflective tape is available in yellow with a width of 3 inches.
HXREF Available in:
Blue Green Orange Red White Yellow
Width:
Sure step tape 69020 and 69022
High-traction non-skid tape is available in a variety of colors and widths. These anti-slip tapes are waterproof with a PVC backing and an aggressive acrylic adhesive. Black-and-yellow striped non-skid tape is also available for use as caution tape.
Available in:
Black Clear Dark blue Dark green Gray Orange Red White Yellow
Width:
1" (24MM) 1.5" (36MM) 2" (48MM) 3" (72MM) 4" (48MM) 6" (150MM) 8" (200MM) 12" (300MM) 18" (450MM) 24" (600MM) 36" (925MM)
Find your safety tape, aisle tape, and floor marking tape at Tape Jungle
Floor and reflective tapes are critical safety equipment that can help businesses comply with regulations and keep employees and the general public safe. Use different types to indicate where hazardous areas are to reduce the chance of injury and to stay in compliance with OSHA standards. Also, tapes improve workplace efficiency by keeping traffic moving where you want it to move and marking areas in a way that is highly visible and easy to understand.
Tapes are available in various colors — including standard warning code colors — and differing widths, lengths, thicknesses, patterns, and materials. Some are highly reflective and used to mark places where vehicles travel, so their lights reflect from the tape. Many kinds are available in various colors and used to make strong contrasts against any floor color or wall paint for high visibility.
Some types of tape even glow in the dark for maximum visibility in low-light situations or power outages, marking floors, doors, exits, and dangerous protrusions or low clearances to keep people safe in low-visibility situations.
Get all your warning tape, aisle marking tape, hard tape, and floor tape at Tape Jungle. Regardless of the project, you should always select the proper safety tape. Numerous tape types in a wide range of sizes, colors, and uses are available from Tape Jungle. Packaging supplies, adhesive tape, and safety tapes are available for every project and industry.
Contact Tape Jungle or look at the vast catalog of products to see all of our industrial tapes to help you with your industrial projects in your workplace or your next project at home.