Posted by Tape Jungle on Dec 09, 2023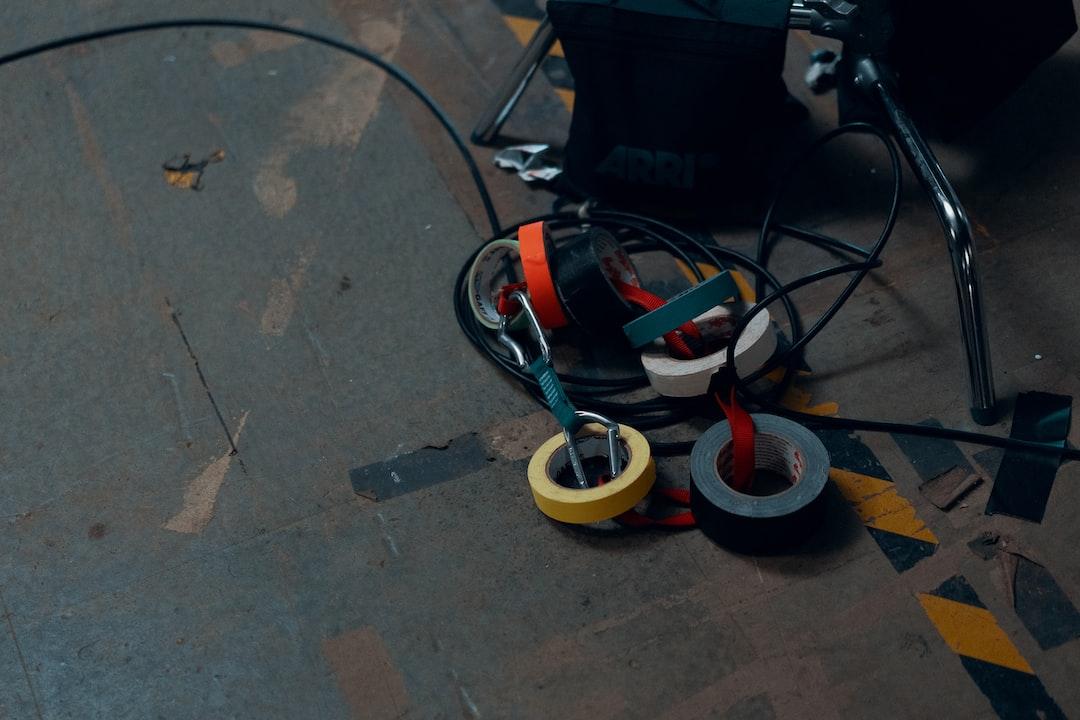 If you're looking for the perfect tape for your industry, look no further! We've compiled a list of the best tapes for every industry so that you can find the perfect one for your needs. Whether you need durable packaging or waterproof construction tape, we have you covered. Tape Jungle has the highest quality tapes for all industries.
Aerospace Tape
Aerospace Tape has become an increasingly important tool in the aerospace industry. Developed primarily for weatherproofing, these tapes protect aircraft parts from environmental conditions such as extreme temperatures and humidity.
You can use high-performance, industrial-grade aluminum foil tape for heat reflection, waterproof sealing, or to create a vapor barrier.
Best aerospace tape products:
When choosing aerospace products, always consider the types of materials and environments they need to suit. Tape Jungle offers a range of products with varying adhesives and backing materials.
Audiovisual Tape
Audiovisual tape is a key tool for many video and TV production applications. Any well-functioning filming crew should have several different tapes on hand. Multiple colors allow for at-a-glance identification.
Select audiovisual tape with an eye on visibility and whether or not you need to be able to remove it.
Gaffer's Tape
Gaffer's tape has strong adhesive properties (but doesn't leave residue behind) and can be ripped with ease.
Best gaffer tapes:
Duct Tape
Duct tape has an even stronger adhesive than gaffer tape and can stick to nearly any surface for extended periods.
Best duct tapes for audiovisual equipment:
Electrical Tape
Electrical tape is a polyvinyl chloride product used primarily to securely connect cables and prevent short circuits during filming.
Best electrical tapes:
Other Audiovisual Tape
Friction tape secures cables and wires on hard surfaces and provides a nonslip surface. Exhibition carpet tape secures items on softer materials.
Other audiovisual tapes:
Automotive Tape
The automotive industry relies on automotive tape all over the shop. Industrial-grade vinyl tack is dependable and resilient against temperature changes, and you can use duct tape to tack down upholstery and other fabrics. Gaffer's tape is the ideal choice for clean-removal bundling, and painter's tape helps you get crisp paint lines.
Best automotive tapes:
Then there are specialized safety and warning tapes that ensure people's safety both in the shop and on the road. Reflective conspicuity tape increases a vehicle's visibility on dark roads, and High-traction safety tape protects against dangerous slips. Safety warning tape alerts people to potential hazards.
Tape Jungle offers a wide range of products that meet OSHA regulations and come in a variety of colors, allowing you to employ OSHA color standards as well.
Best automotive safety tapes:
Construction Tape
Construction tape is an indispensable tool for countless construction professionals, from builders to plumbers to painters and HVAC workers. Some of these tapes must endure the elements, while others are only needed to lightly mark or bundle materials. In these cases, residue-free removal is essential to success. Here at Tape Jungle, we supply all your construction tape needs.
Construction Safety Tape
These tapes are versatile and bright, generally used to mark areas off-limits and indicate hazardous conditions. Plus, they're designed to be durable against whatever weather or environment your site may face.
Best construction safety tapes:
Window Glazing Tape
Window glazing tape provides a reliable seal between the window frame and glass panes. It thermally insulates a space, preventing air from escaping or entering. That leads to better-heated and more energy-efficient buildings.
Best window glazing tape:
Plumbing Tape
Plumbing applications require the utmost quality and reliability from tape, as they maintain watertight systems. Pipe thread seal tape is made from high-grade polytetrafluoroethylene (PTFE). This is a thick yet malleable material that forms a seal around threaded pipe joints, providing superior protection against water leakage. With its low friction surface, PTFE tape requires minimal torque when sealing and does not corrode over time.
PVC tapes are also very popular for plumbing, and PVC insulation tape can protect wires and cables from moisture, abrasion, and chemicals.
Best plumbing tapes:
Painter's Tape
Painter's tape can turn an amateur painting job into a beautiful, professional finish. It adheres to any surface, prevents seeping, and aids precision. It also removes cleanly — without damaging new paint jobs.
Best painter's tapes:
Duct Tape
From creating airtight seals to adding strength to materials, duct tape is an incredibly versatile tool to have on hand. It combines a strong adhesive with a durable backing and is easy to apply.
Best duct tape: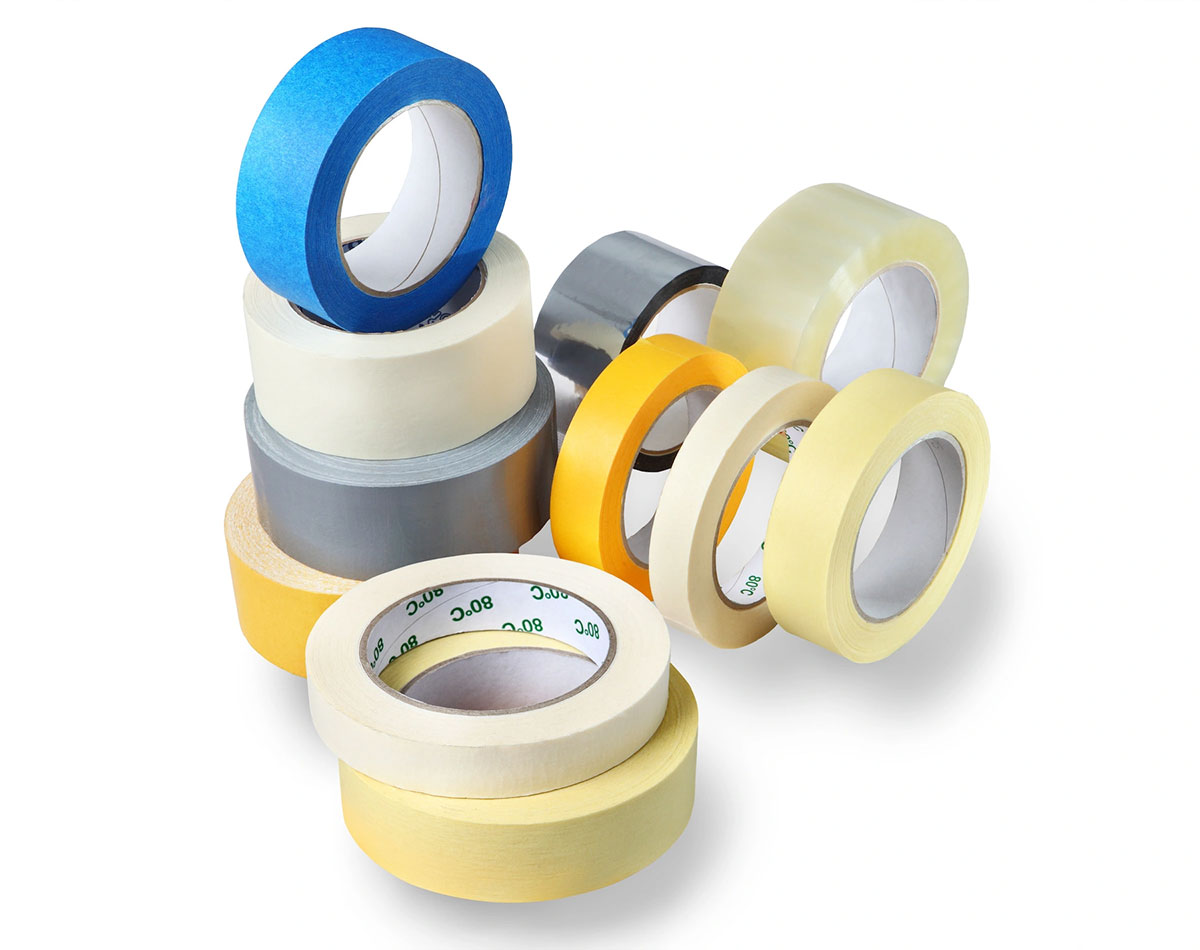 Electronic Tape
Whether wiring new circuits or repairing existing ones, electricians need an electric tape that can handle the job and weather the elements. Electrical tape is highly durable, designed to handle a wide range of temperatures, and strong enough to resist abrasion and UV radiation. It's also flame-resistant, making it an excellent choice for outdoor wiring projects exposed to the elements. It also comes in a variety of materials.
Best electrical tapes:
Shipping Tape
The shipping industry relies on carton sealing tape for secure and efficient packaging. Some are printed with important messages, such as "Fragile," to alert people of delicate cargo. Tamper-evident tape assures personnel and customers that containers remain unopened. Its destruction or absence is an indication that tampering has occurred.
There are different types of shipping tape to suit a variety of companies and materials.
Best shipping tapes:
Consider the appearance as well as the physical properties of your tape. For example, do you need to store packages long-term? Or maybe, you need to put them directly on display for consumers to purchase. Clear packaging tape is perfect for ensuring visibility on shelves and cartons.
Spare yourself the frustration of cutting packing tape with scissors and pick up a high-quality handheld tape dispenser.
We can also help you design and print your own custom-printed tape. Brand your packaging so that customers instantly recognize their parcels. Custom tape adds a touch that is at once personal and professional.
Trade Show Tape
When you attend a trade show, you need trade show tape to create attractive displays and attach signs or media materials in prominent locations. The right tape will look professional even after long days and heavy use.
Use exhibition carpet tape to mark stage directions and secure carpets. Vinyl floor tape is ideal for creating pathways at points of congestion, and duct tape always comes in handy for little repairs and adjustments on-the-fly.
Best trade show tapes:
Pay attention to general trade show regulations as well as any policies specific to the exhibition center. Trade show tape regulations often include using appropriate colors to indicate different designations. Buildings may also prefer that you use tape that removes cleanly without leaving a residue.
Printing and Graphic Tape
Printers find many uses for tape throughout their work days, using printing tape to secure materials or bind packages. Professionals in the graphics industry likewise turn to the sticky stuff.
ATG tape provides a permanent adhesive that ensures artwork remains secure and permanently affixed, and masking tape shields intricate artwork during airbrushing and similar processes. The artist can then remove it without leaving a residue. Liner tape's fast-drying adhesive makes it useful in precision cutting and scoring machines and large format plotters, and polyester film tape conforms to different surfaces and planes.
Best printing tape and graphic tapes:
Scrapbooking and Craft Tape
Whether you want to preserve your memories or create handcrafted masterpieces, you've probably heard of scrapbooking and craft tapes. Some crafters turn to ATG tape. With its versatile adhesive on both sides and flexibility, it's great for creating unique three-dimensional effects as well as mounting films and foils. You will also need an ATG dispenser.
If you are looking for something a little bolder, polyester film tape can add a bit of class with its matte or glossy finish. It also has the adhesive strength needed to support heavier-duty projects.
Best Scrapbooking and Craft Tapes:
Different colored tapes also make wonderful arts and crafts supplies for crafters of all ages. From home projects to party decorations, you can create wild and bright designs or add a special touch to existing crafts.
Sports Tape
Athletes and coaches rely heavily on the right sports tapes to keep them performing at their best. It's a staple in the kit bags of trainers, roller derby skaters, hockey players, and more.
Gaffer tape is an essential tool for temporary marking, and people use vinyl tape for everything from color coding to fixing shoes. It's also ideal for labeling equipment.
And let's not forget about classic duct tape, which is so handy that it's become a cultural touchstone for anything needing a quick fix. It's a go-to solution for many situations. Its strong adhesive provides durable performance even in nonideal conditions such as wind, rain, humidity, and extreme temperatures, making it a powerful tool for outdoor athletics.
Best sports tapes:
Transportation Tape
Transportation tape is an important part of ensuring safety on the roads and waterways. People in the industry use it to secure items over long distances or mark vehicles and roadside objects.
Drivers find many uses for tape. Commercial drivers venturing out at night need to follow conspicuity regulations and apply the right reflective tape to their vehicles, aiding visibility in the dark. As they drive along their routes, safety warning tapes make roads and structures more visible, particularly in hazardous areas and conditions.
Tape is important on the water, too. Marine reflective tape helps boats identify each other in dark water, and sure-step tapes create traction on slippery surfaces to improve stability and prevent falls or harm from slips or trips.
Best transportation tapes:
Office Supply Tape
Office workers also need to keep office supply tape on hand. People use it to close file folders, secure documents, and label storage boxes.
Best office supply tapes:
Don't forget a good tape dispenser to use with your office supply tape. And remember to pick up a roll for home use, too. There's always a need for simple office tape. Use it to seal envelopes, wrap presents, and label pantries.
Pick the Right Tape Jungle Tape
We understand how essential tape is to different industries. From box sealing to pipe insulation, the perfect tape plays an important role in the success of your venture. With so many options available, it can be hard to find the right one. Just think about the intended application, the environment where the tape will be used, and the other tools you will need.
Still unsure? We're here to help! Contact Tape Jungle with any tape-related questions you have. Our team of experts can direct you to the perfect product for your project, budget, and business.
Or browse our impressive selection of tapes for different industries. We're confident you'll find what you need.